Get Hendersonville's Ultimate Cheerleading Experience!
For nearly a decade, CheerVille has provided an opportunity for all athletes to learn the love of cheerleading. Our certified coaches are committed to empowering each team by reinforcing the relationship between effort and achievement. From training athletes to building champions, we take pride in ingraining values of integrity, excellence, respect, and a passion to be part of something greater. Our athletes Do It Better because they work hard to develop into the best teammate and person to succeed in all aspects of life.
We offer a cheerleading experience to meet a variety of commitment levels both financially and time intensive around your family's schedule.

Learn the Love of Cheerleading
Our Novice Program currently is divided into two short 4-month sessions that take place during the Fall & Spring and each team will only practice once a week. This is the perfect opportunity for your child Ages 3+ to learn the love of cheerleading for the first time! With an inexpensive, short competition season with local-only events, CheerVille offers the best beginner team for your athlete to begin a fun-filled experience!
Success Begins Here
Prep Teams are the building blocks of our program and a great opportunity for beginner cheerleaders Ages 5+ to train new skills, develop friendships, and learn what it takes to be competitive! This caliber of cheerleading is a progression from our Novice program in both skill and commitment. Along with training walkovers and more elite stunting, they receive in-house choreography and routine music. Each team will practice once per week and travel to local competitions. Prep Teams are a great way to explore the world of competitive cheerleading before committing at the Allstar level!
Train Like No Other
Take your cheerleading experience to the next level on a Travel Team at CheerVille! Our travel teams train elite routines year round that require team effort, hard work and dedication. These teams practice twice a week, can travel out of state for competitions, and may be eligible for post-season events all while competing against the top programs across the country!
Our Limited Travel Teams have all the same benefits but are limited to a specific number of competitions for those who may want to travel less and more affordably.

Become a Champion
We believe that success comes from confidence, hard work and preparation. This formula distinguishes how CheerVille builds our athletes into champions! Competing at the most prestigious level in All-Star Cheerleading, our Worlds Teams offer athletes the opportunity to train as an elite athlete, receive top-quality choreography and music, and receive a custom team uniform. Worlds Teams are eligible to receive a bid to the Allstar Cheerleading Worlds as a post-season event.
IMPORTANT LINKS:
Building Champions
At CheerVille, one of our driving forces is Building Champions. With a Program First mentality, we focus on teaching athletes skills to be successful on the mat, as well as in life. We are incredibly proud of the hard work and dedication of our Villains.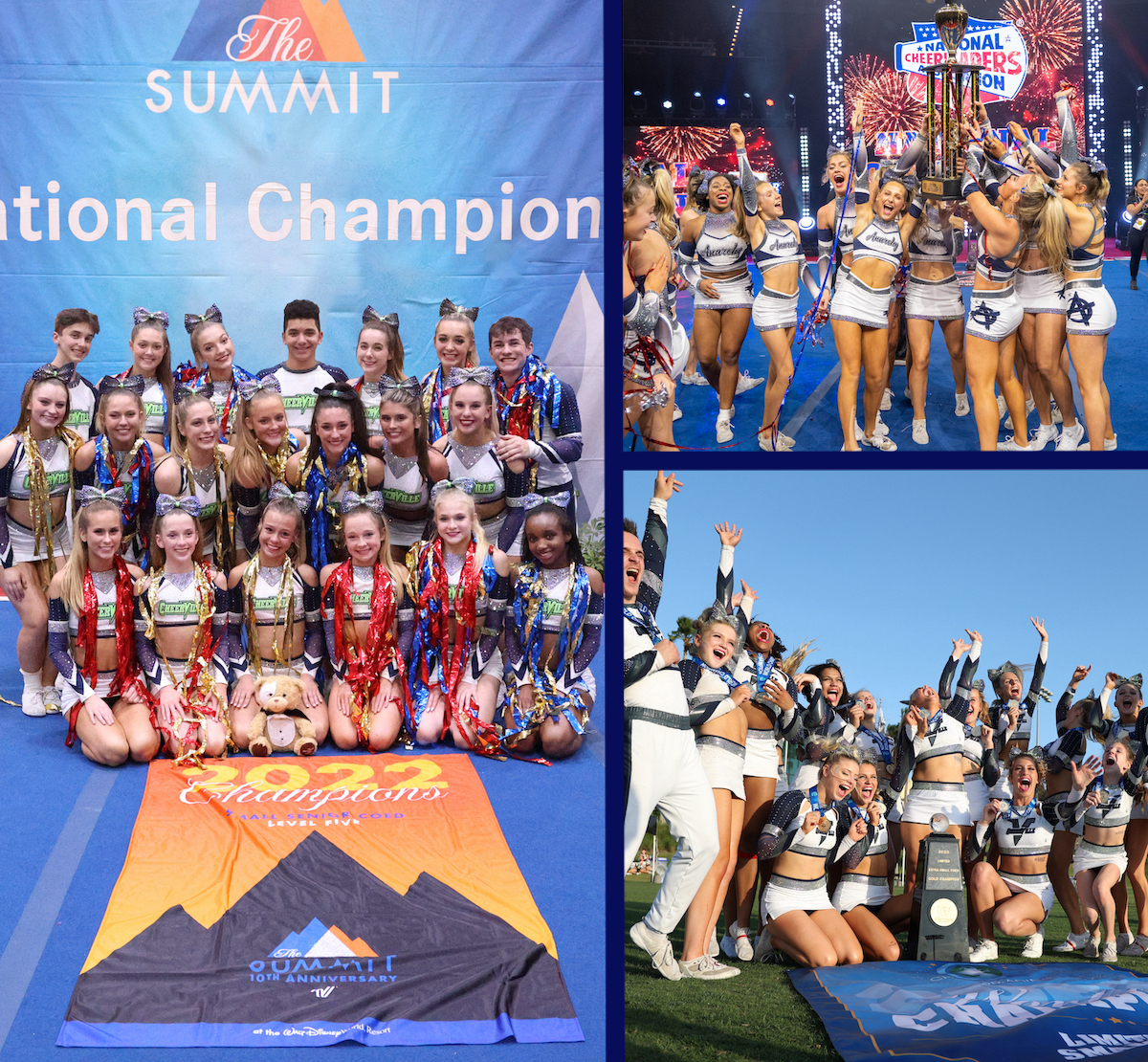 2021-2022 Accomplishments
Anarchy received First Place at The Cheerleading Worlds
Phantom received First Place at The Summit
Carnage received First Place at The Allstar Worlds
CheerVille received 2 Silver Medals at The Summit
CheerVille received 2 Firsts, 2 Seconds, and 1 Third at The NCA National Championship
CheerVille received 5 Firsts and 3 Seconds at JamFest Super Nationals